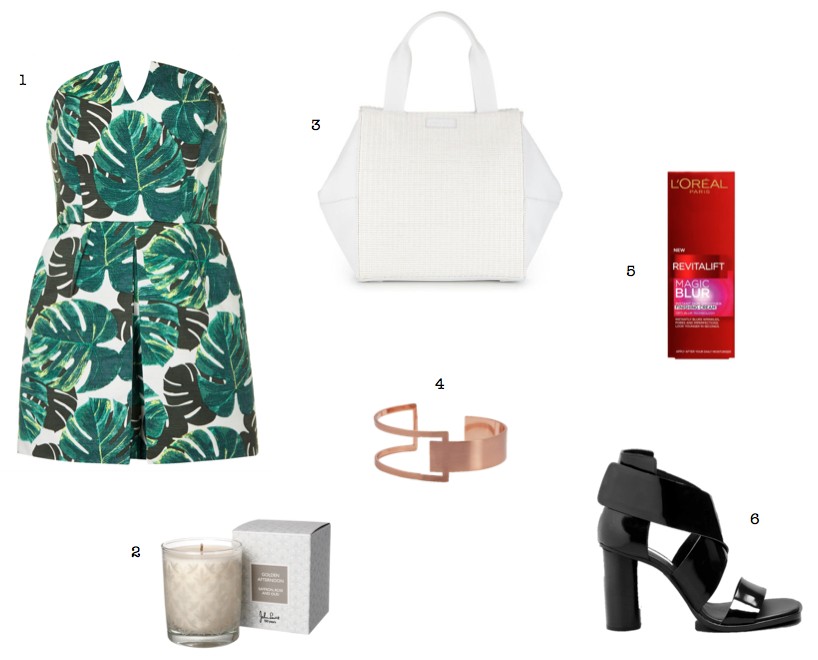 I saw this little beauty at the rewardStyle/Topshop party last month and immediately fell for it. Bright colours and prints are not usually my thing at all, but there's something about tropical palm leaves which wins me over every time. Maybe it's because they immediately put me in mind of a hot, lazy holiday, all tans and cocktails and turquoise seas (gawd, I miss Cuba). I love the shape of this playsuit, too: super flattering.
British high street stalwart John Lewis continues its 150th anniversary celebrations with a range of 3 limited edition scented candles, which as you can imagine means I may well be buying them all. I'm a huge JL fan (who isn't?) and you know there's nothing I love more than a scented candle. This one, with notes of saffron, rose and oud, is inspired by Leckford Abbas, one of the main houses on Leckford Estate, which was bought by John Spedan Lewis in 1928. It harks back to the Edwardian 'golden afternoon' before WW1, plus the print on the candle dates back to the store's founding year, 1864.
Whistles sale is on: cue me hyperventilating in excitement. Sadly the one thing I was holding my breath for - the Portland rucksack - wasn't reduced, but I've decided to give this beauty a go instead. I've been after a white bag for quite a while and I'm hoping this will be the one. However, I'm really not a fan of Whistles' updated website because it keeps cancelling my orders for no reason, so in the end I had to do a mail order… So this bag better be good after it took me 3 days to order it!
I'm pretty fussy when it comes to jewellery and I haven't really found any that I'm excited about recently. When it comes to bracelets, the more angular and minimalist the better if you ask me, so this COS beauty might just be the one to get me investing.
I've read good words about this finishing cream, which is basically a primer and firmer all in one. What can I say, as I approach the wrong end of my twenties I'm finding myself more and more drawn to products with the words "anti-ageing" in them. This promises to blur out pores and wrinkles while also containing retinol to firm up skin in the process. Sold.
The & Other Stories sale is the other one that's really got me excited (and left a nice dent in my bank balance). Their shoes always have me lingering over the "add to basket" button and these cross-strap sandals with a satisfyingly chunky, walkable heel and patent finish are top of my list right now.
Follow me on
bloglovin'
facebook
twitter
pinterest