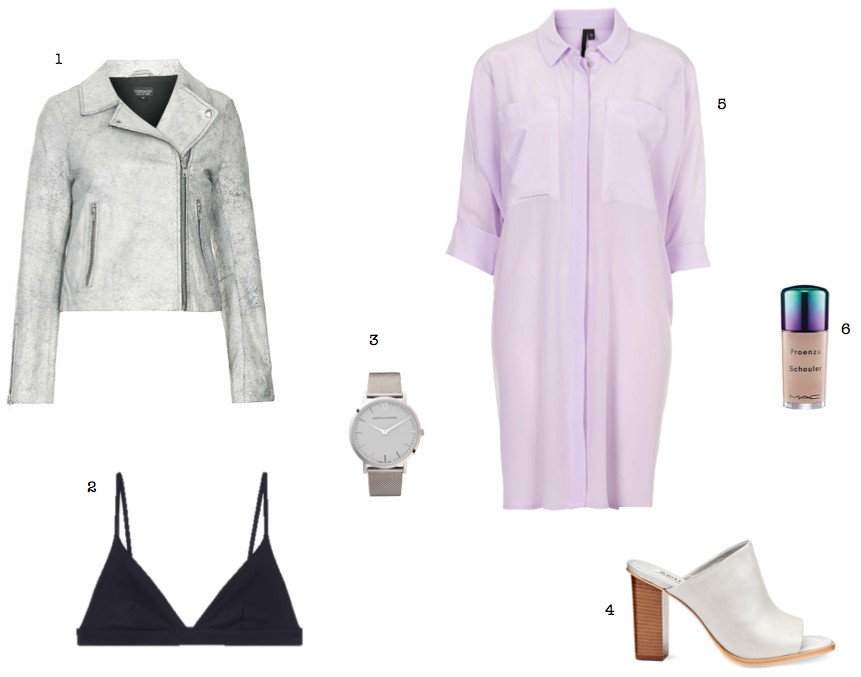 I am totally obsessed with marble right now, and cracked white leather happens to look an awful lot like it. I love this boxy biker and think it would look just perfect with a simple black dress and some mules (see number 4)...
One week until I head to Cuba (whoop) so I'm of course on the lookout for a last minute bikini purchase. I've been scouring the shops for a while now but nothing's been catching my eye (except the H&M scalloped beauty which I totally missed out on. Grr). But this simple one from COS might just tempt me to part with my cash. I love its clean lines and of course the fact that it's navy (my favourite colour).
I posted this watch in a "today I'd love to wear" the other day and I haven't been able to get it out of my head since. Truth be told I've been thinking about investing in a watch for quite a while and this is the number one contender right now. The downside is the price, but cost per wear it's got to be a good investment, right? I think I may just succeed in talking myself into this one.
Mules… What can I say? I thought they'd be a flash in the pan trend but I am still craving every pair I see. As usual Whistles have pulled it out of the bag. I love the greyish white colour of these and the satisfying chunky wooden sole. A key accessory for summer if ever I saw one.
Lilac has definitely overtaken pink in my good books of late. And shirt dresses are surely a must-win easy option for daytime dressing once the temperature heats up. The fact that it's silk puts me off a little (so not easy to clean), but then again when have I ever let practicality get in the way of fashion?
I've been hotly anticipating Proenza Schouler's collection for MAC for a while and this week it finally dropped. Unfortunately though it's exclusive to Selfridges, ergo not that easy for me to get hold of since I'm outside of London and most of it's sold out online. What I really want to get my hands on is the orange lipstick, but for now I might have to go for this nail varnish instead: the perfect shade of nude.
Follow me on
bloglovin'
facebook
twitter
pinterest